The top eco-friendly promotional products to help promote your sustainable business.
Here at EverythingBranded we have a wide range of eco-friendly promotional products perfect for any business in the sustainable industry. If your brand is looking to go green or lower its footprint, we have team and resources to find the perfect promotional eco-friendly products for your business. Go green and stand out from your competitors with our range of environmentally friendly gifts and giveaways.
Boost your brand perception and show your customers how much your brand really cares about the environment with sustainable promo products. Brand your own eco-friendly promotional products with your logo and leave a lasting impression on your customers today.
Our top eco-friendly promotional products.
Think Green Recycled Notepad & Pen
Branded notebooks are an essential for nearly all business and especially those that are office based. That's why our recycled A5 notebooks make the perfect eco alternative for your brand to use as a marketing tool to promote your brand logo and image.
Stainless Steel Straw with Cleaning Brush
Reusable straws have become increasing popular over the last few years, with plastic straws no longer allowed, our reusable stainless steel drinking straws make the perfect eco alternative. Brand them with your logo and remind your customers how much your brand cares every time they take a drink.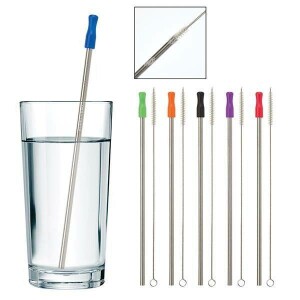 Twist Action Bamboo Stylus Pen
Our bamboo ballpoint pens would go hand in hand with our recycled notebooks. Lower your footprint with our range of eco-friendly pens and use them as marketing giveaways to your employees and special customers.
Tahiti Bamboo Glass Bottle – 510 ml.
Travel bottles are perfect for any type of drink and people on the go! Brand your own eco-friendly travel bottles made from bamboo fibres and borosilicate glass. Capacity up to 510 ml ideal for a good-sized brew and plenty of space from branding.
Laminated 100% Recycled Shopper
Our branded recycled shopper makes the perfect marketing tool to increase your brand awareness. With a large print area for your brand logo and message our eco-friendly shopper will remind your customers of your brand every time they go shopping and expose your logo to others every time they go out.
Go green with the EverythingBranded team!
If you liked any of the products featured in this blog, you can request a quote or order online. If you would like to speak to our team about the eco-friendly products we provide, you can give us a call on +18889688546 or chat online with us today.