Using promotional products that are eco-friendly can provide your business with many benefits and improve your standing with customers. Most businesses now need to be aware of the environment and show their customers how they are working to improve their impact on the environment – customers are likely to not only pay attention to your service but also to your manufacturing processes, so you need to show your customers what you are doing to provide your services in a sustainable and eco-friendly way.
These eco-friendly products are sustainable writing tools you can customise for an effective marketing strategy. Include your company name or logo to raise awareness about your brand and its message.
Since your product is associated with the green movement, you convey your message of concern for the environment. This adds value to your investment because it projects an earth-friendly message.
1. Executive Bamboo Twist Action Ball Point Pen
Do your bit for the environment with Bamboo Twist Action Ball pen what can come with a custom print. Bamboo helps lower the carbon dioxide rate by 35% in the climate and can be a trendy item with its simplistic style and design. With an environmentally friendly ball pen, the trendy look will allow whatever your brand is to stand out from the crowd with a one colour imprint.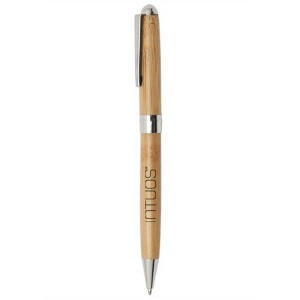 2, Aws 560 ml. Belle Glass Bottle With Bamboo Lid
Satisfy customers with an amazing item like this Aws 560 ml. Belle glass bottle with bamboo lid! Use it to store almost any beverage of your choice so you can take along wherever you go. It has a beautiful design that will be appealing to your customers, and it's great for keeping nearby on your desk at work or when going out for a walk. Add your company name or logo and interest people in more of what you have to offer!
For an environmentally conscious way to make a lasting impression on your clients, look no further than this pen! Made with recycled paper and plastic and available in an array of colors, this useful handout will put your brand straight into your customers' hands! Perfect for doctor's offices, universities, banks, hotels and more, this item can be customized to your liking with an imprint of your company name and logo for increased brand visibility!
4, Felt Shopping Bag for Women Fashion Style
These tote bags are made from durable 100% Polyester felt with thick poly web handles for extra durability. These bags measure 13.5" H x 20"W x 5.5" Gusset and has plenty of room to hold groceries, clothes, towels, beach stuff and much more. Perfect for grocery shopping, the beach, the pool, carrying books or just as an everyday tote. The contrast grey and black fabric make for a stylish, simplistic design that goes with anything. These heavy duty felt tote bags are great for everyday use or carrying your groceries home from the market.
5, Eco-Inspired Spiral Notebook & Pen
Write your next success story with the eco spiral notebook and pen! An eco-friendly product, this notebook includes 80 pages of lined recycled paper with a recycled symbol on the bottom corner of the pages. Coming with spiral notebook is a matching pen that has a recycled paper barrel that can be held in an elastic pen loop. A great giveaway for training seminars, schools, and fundraisers, make sure to imprint your logo on the front of this notebook. Make the practical promotion part of your next marketing campaign!
6, Sip N Stir 12 oz Bamboo/Polypropylene Mug with Spoon
A fantastic combination of 50% bamboo and 50% polypropylene, this is the ideal item to do your part for the planet as well as have two utensils in one with a spoon and mug. This item can also be printed with either pad print or emboss.
All major fast-food chains such as McDonalds or KFC are now all selling their selected drinks with paper straws to cut down on the use of plastic and has seen them save the amount of plastic within oceans cut right down. Paper straws are biodegradable unlike plastic straws so therefore can take two to six weeks to decompose where as plastic can be up to 200 years!